Course
Course details
Group Lesson Course
Lessons for groups. There are three levels of classes: primary 1, primary 2, intermediate. Students can choose the most suitable.
Students from the Introductory Course can continue studying in this class. Many students move on to this course.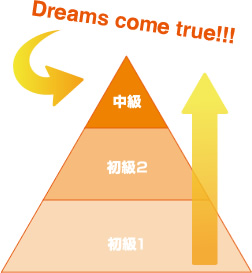 Intermediate Course

Using a wide vocabulary and grammar at N3 level, students can talk about general topics and abstract themes. Moreover, they gain skills in reading and writing various kinds of sentences.

Primary 2 Course

Students acquire the skills to explain in detail, with more complex grammar and advanced vocabulary, and to express more nuanced ideas. They can master 300 kanji characters.

Primary 1 Course

As well as reading and writing hiragana, students can make themselves understood in simple Japanese for daily basic situations. 150 kanji characters can be mastered.
Lesson days
From Monday through Friday (the school is closed on Saturdays, Sundays, National Holidays, and school holidays)
Number of lessons
49
Lesson hours
From 8:30 to 11:50 a.m. (45min. x 4 )
Quarter
Period
Course
Spring
April, May, June
P1,P2,I
Summer
July, August, September

Autumn

October, November, December

Winter

January, February, March